Fri Mar 12 2021, 3:00 pm - 5:00 pm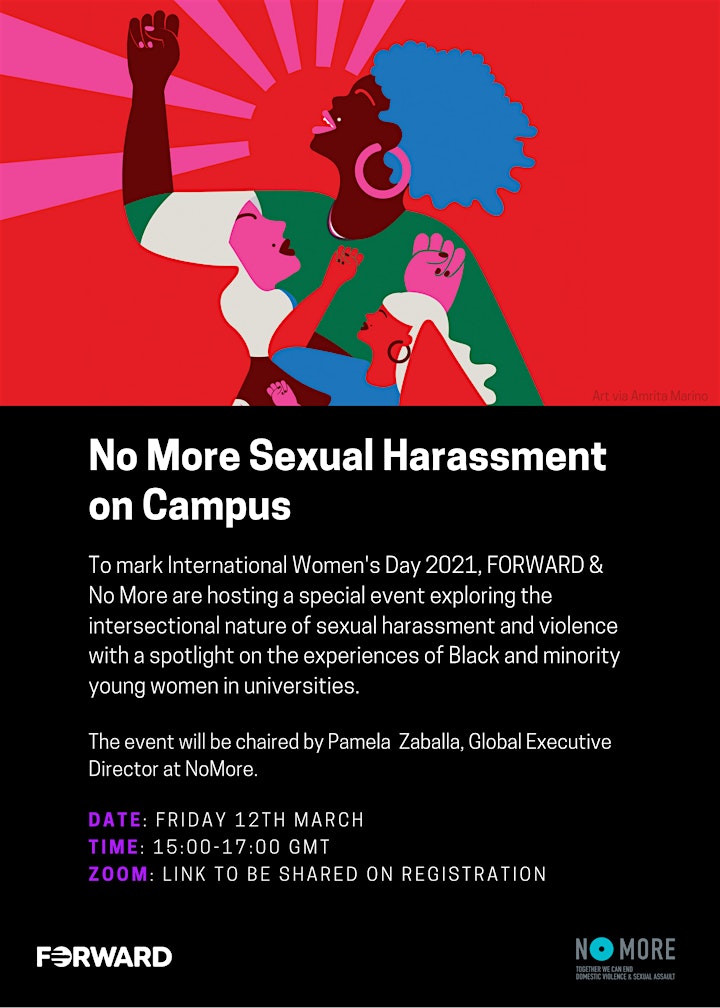 FORWARD & No More are hosting an event to explore the intersectional nature of sexual harassment and violence against BAME women on campus.
About this Event
This is a joint event by FORWARD, a UK based African women- led organisation working on multiple forms of violence against women and girls and No More, a global campaign dedicated to ending domestic violence and sexual assault by increasing awareness and inspiring actions to fuel culture change. This partnership is aimed at marking International Women's Day 2021 and will take place during No More Week on the 12th of March.
This event aims to:
Explore the endemic nature of sexual harassment and violence within tertiary education institutions, with a spotlight on the experiences and complexity of sexual violence among black and minority young women in universities.
Share research and global strategies and initiatives that have the potential to address the policy and response gaps within higher institutions
Share knowledge and strategies for young women advocates on campaign and activism on tackling sexual violence and harassment
Who should attend?
Policymakers
Young women [especially those from ethnic minority communities in university]
Students associations
Activists working with young women
Who are we?
FORWARD is the UK's leading African Diaspora organisation working to safeguard the rights of African women and girls. FORWARD Young Women's Hub is a platform for Black, Asian and Minority Ethnic (BAME) women to meet, network and participate in discussions exploring all aspects of their lived experiences, as well as to engage them with FORWARD's work to end violence against women and girls.